Franklin Upper Elementary Receives Grant for New Playgound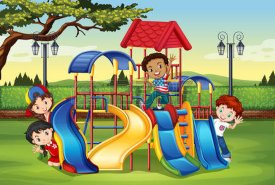 ---
Elementary students returning to six schools across Mississippi this fall will be welcomed by new contemporary inclusive playgrounds provided by generous grants from the Blue Cross & Blue Shield of Mississippi Foundation. Studies show creating environments for children to experience unstructured play supports their physical health and increases their chances of succeeding academically in the classroom.
Schools selected to receive playgrounds, including Franklin County Upper Elementary School in the Franklin County Public School District, did not have a playground, or had a playground that was aged and in disrepair. Other K-5 schools receiving playgrounds from the Foundation are located in Chickasaw, Newton and Washington counties. The playgrounds are being installed this summer with ribbon-cutting celebrations planned for the fall.
Each 5,380 square foot playground has 24 pieces of play equipment with turf safety surfacing and shading systems. Also provided is teacher education curricula created as a best practice guide for promoting overall fitness and fun through the use of outdoor play environments. The evidence-based curricula is aligned with national physical education standards.
Franklin County Superintendent of Education, Chris Kent, stated, "The Building Healthy School Playground will improve the quality of student learning, self-esteem and physical activity at the upper elementary school. On behalf of our school district, I would like to take this opportunity to thank the Foundation for consideration of Franklin County Upper Elementary School for this grant opportunity."
"The Blue Cross & Blue Shield of Mississippi Foundation is proud to provide spacious school playgrounds where students can engage in active play outside of the classroom," said Eugenia King, the Foundation's Health and Fitness Coordinator. "The playground structures are designed for physical activities such as climbing, crawling, jumping and running to improve balance, flexibility and cardiovascular health while promoting creativity and building social skills."
The Blue Cross & Blue Shield of Mississippi Foundation has a vision for a healthy Mississippi and provides leadership and targeted grant funding for sustainable initiatives and programs to improve the overall health and well-being of Mississippians. Learn more about the Foundation's partnerships at www.healthiermississippi.org.