Free Meals for All Students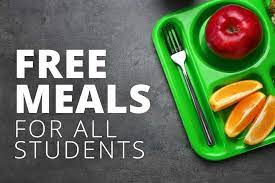 ---
The United States Department of Agriculture has issued a waiver to allow schools to serve meals under the Seamless Summer Option (SSO) through School Year 2021-2022. Through SSO, all students enrolled in the Franklin County School District will be eligible to receive a free breakfast and lunch during the 2021-2022 school year.
Meal applications will be provided and it is still important to complete a meal application for the 2021-2022 school year. Students will receive free meals regardless of the information provided on the meal application. However, other assistance may be provided based on meal application information.
Completing an application takes less than 10 minutes and application information remains private and confidential. Only one application per household is needed.
COMPLETING A MEAL APPLICATION MAY HELP PROVIDE:
Pandemic EBT or Summer EBT benefits

Free/ Reduced meal 30 day rollover for the next school year

State and Federal funding for school budgets

Fee waivers for college applications and admission tests such as ACT

Resources for classrooms, teachers and students
If you have any questions please call or email Melinda Arnold, Foodservice Director at 601-384-5196 or marnold@fcsd.k12.ms.us
Melinda Arnold MS, RD, LD
School Foodservice Administrator
Franklin County School District
302 Edison Street South
Meadville, MS 39653
601-384-5196